Calling All Artists!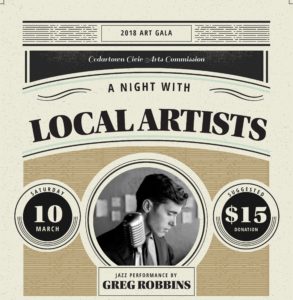 Artists from Cedartown and surrounding areas will soon have an opportunity to be recognized and present their original creative endeavors during "A Night with Local Artists" Gala at the Cedartown Performing Arts Center. The CPAC is actively seeking interested artisans to participate in the second annual event which will be an evening of art, live jazz music from local artists Greg Robbins, and wine.
The second annual Gala will be held Saturday, March 10th, at 7 PM in the Auditorium Skellenger Gallery and will be open to the public. This is not a juried competition and artists will be able to display and sell their work and accepted commissions from interested patrons. There is no registration fee. This year we hope to hold an art auction to raise funds for the CCAC Children's Enrichment Fund.
This endeavor by the CPAC is part of a plan to recognize our local artists and to keep art in the Auditorium Gallery on a full-time basis – either by staging periodic shows, purchase of art pieces from local artists or donations of art pieces from individual artists.
To register please download/print the form below: